Design & Marketing Trends for 2018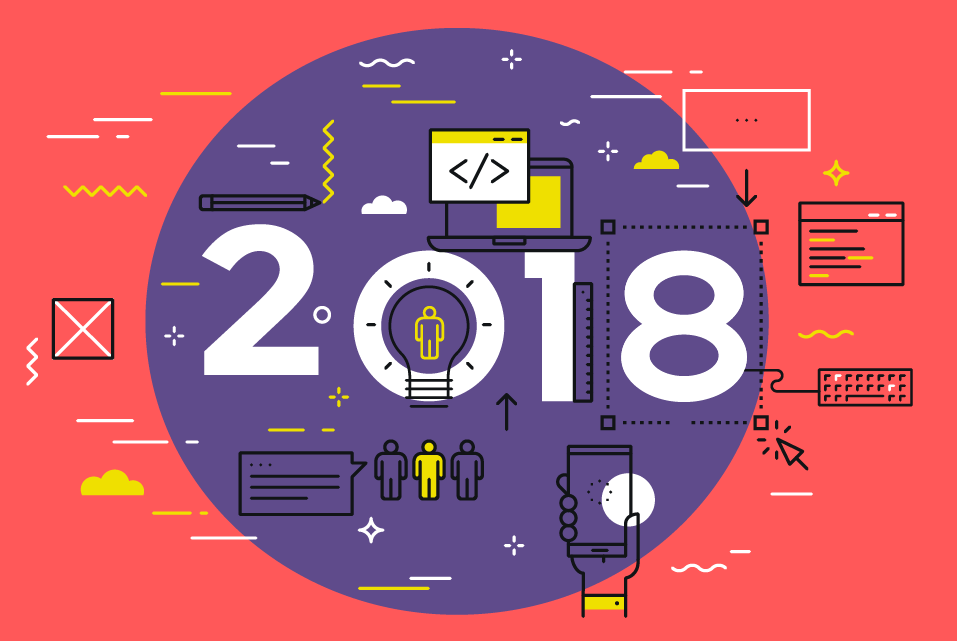 What will be big in the marketing world in the upcoming year? Here are the top Design & Marketing Trends for 2018
Harness New Technology
As in previous years, many 2017 trends were driven by emerging or changing technologies. Apps that use augmented and virtual reality, graphics produced with generative software, artificial intelligence and chatbots have all been making an appearance across B2C marketing. It can be hard to see how these new technologies can be used in the B2B marketplace, but 2018 will see businesses explore these in more detail. Chatbots can be applied for sales and service products, virtual reality is already used to enable a client to try before they buy, seeing inside a property developer's new building for instance.
Be Bespoke
Whether it's a hand drawn font or a detailed illustration, unique content continues to be attractive and help set a client apart from competitors. 2018 will see this trend go one step further: hand written letters or beautifully designed direct mail items are expected to be popular. These really resonate with clients and could have a big impact in the B2B marketplace. Real photography also adds authenticity to a brand, either gritty documentary style shots, user generated content or a client's own photographs can help set a brand apart.
Connect Socially
As Twitter is starting to wane, less traditional B2B platforms such as Facebook and Instagram are starting to become more popular. Instagram has gone through a number of updates; users can now upload multiple photos in one post and the story feature is proving popular. Using these tools could help connect with customers in a more authentic and meaningful way. Facebook continues to be popular and businesses can use it to connect with customers, receive feedback and respond.
Be Bold With Colours
A strong colour palette is an excellent starting point for any new brand, but 2017 has seen a real increase in bold, bright palettes. With Pantone's Colour of the Year 2018 being a striking ultra-violet, this is set to continue into the New Year. Brands are increasingly struggling to stand out against other visuals on social media, so bright colours will help. A bright palette can also add a modern twist. If all a client's competitors are blue, using a different colour will help a company to stand out. A business doesn't need to adopt a whole new palette for their brand, injecting a bit of colour into campaigns could be enough to set them apart.
Keep It Moving With Video
The impact of video content has been evident for the last couple of years, it's well known that social media engagement is far greater for posts with a moving image. Now Facebook allows gifs, these have become hugely popular with users. The way for B2B clients to harness this is to create short, snappy animations with a clear message. Keep images simple and text minimal to have the greatest impact.
Tell a Story
This has been an emerging trend for the last couple of years in the B2C arena (think emotional banking adverts or branded characters with a strong narrative) but 2018 will see B2B marketing harness storytelling to connect with clients. It ties in with other trends such as bespoke content and helps businesses build an authenticity around their product or service. As technology becomes more pervasive in customers lives, there is a yearning for more 'real' or 'honest' content to balance this.
We look forward to seeing what other design and marketing trends will emerge over the coming year.
­­