It's time to fall back in love with your marketing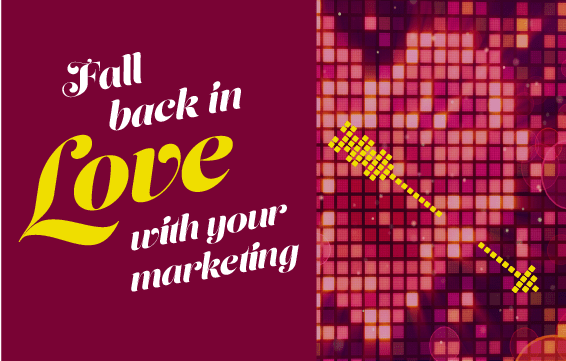 Do you love your marketing? Or has the spark gone out?
Maybe you've tried various things but nothing seemed to work. Perhaps your marketing 'to do list' is so long that you don't know where to start. Or has it been neglected and become stale?
Your marketing is how you present your business and it's a reflection of who you are, what you do and what you stand for, so you should feel passionate about it.
We have some ideas to fall back in love…
Go back to basics
We all know that loved up feeling you get at the start of a relationship. This was probably similar in the early days of your business or the last time you did a 'rebranding' exercise. You probably put a great deal of time and effort into thinking about your marketing – developing a logo, thinking about your brand values and getting excited about how to communicate with the world. Try to go back to this point. Start with a blank piece of paper and think about the basics. If you haven't done this for a while, it's likely that there'll be a discord between where you want to be and where you are. The resulting 'to do list' may seem long, but identifying the problem is the first step to solving it!
Make the time
We all know we should make time to promote our own business. But often, we let marketing fall to the bottom of the list of priorities, especially if we're caring for client's needs. If you want to consistently grow, your need to put time into your relationship with marketing. Set appointments in your diary to dedicate to marketing. Perhaps you'll try to look at a different aspect each time – from your brand to your website, your social media to your PR.
Have a reality check
Have you got measures in place to see what elements of your marketing are working? If you have and you know you're not getting results, it's likely you need a rethink. You might know where you're going wrong but until now lacked the impetus to do anything about it. However, if you feel like you've tried all avenues, maybe it's time to take a different tack or call in the experts.
Falling in love with your marketing again requires time, effort and a dedicated approach. If you have the will, we can help you find the way.