A look back on our year in 2019…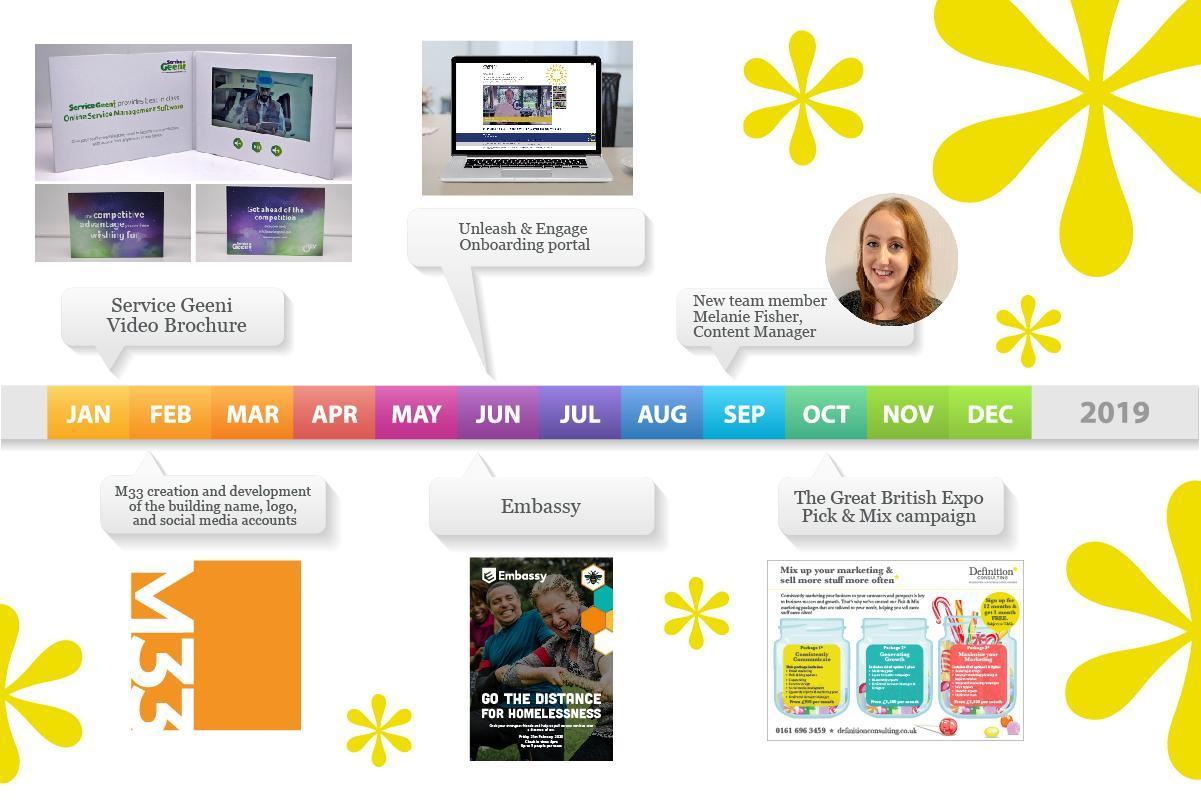 Let's take a look back at our year in 2019…
Practicing what we preach
As an agency, we're sometimes so focused on our clients marketing that we can let ours take a backseat. This is why we chose this year to focus on 'practicing what we preach' by attending our first exhibition, The Great British Expo, launching our Pick & Mix marketing packages and building on our own social media platforms. The Pick & Mix campaign focused on creating a marketing package that's tailor-made by the client. With SME's in mind, we understand every business is different and may need or want different marketing tools. With each package, you can pick and choose what you want us to do for you, from social media management to integrated campaigns and strategic plans, it's completely bespoke to your business.
Act local, think global
In 2019, we're proud to have collaborated with CEG to work on the branding of our very own office building, Jackson House in Sale. Commercial investment group, CEG have secured a £6.5 million redevelopment of the building which will see it transform with a completely new look. Having been involved in the creation and development of the building name, logo, and social media accounts, this enabled us to have an input on how the building will be re-launched later in the year. M33 Manchester is something close to our hearts and with most of the team being local to Sale, it has been an excellent opportunity for us to be involved in the improvements that are planned for the town.
Combining Business Development & Marketing to maximise results
Something that makes us stand out in a world of marketing agencies, is our in-depth knowledge of Business Development. Slater Heelis, a full service law firm who we have worked with for a number of years, are currently rolling out our Business Development training programme, which structures and guides each individual to contribute to the growth of the firm.
From management buy-out to re-launch
 Leonherman, an accountancy firm in Manchester, recently went through a management buyout and having worked closely with them for over 7 years, we supported them through their management changes. In order to promote the buyout both internally and externally, we created a video with the new Managing Director Jerry Scriven. Have a look here
Supporting Embassy
Throughout 2019 we have continued our support with Embassy; a Manchester charity that provides the homeless with emergency beds and rehabilitation. It's certainly a charity with a difference and we've been lucky enough to work with them on projects including their upcoming Bus Pull taking place this year.
Branding Beyond Barriers
Another charity we've supported is Beyond Barriers, a charity set up by a psychology expert who provides care to those not being recognised by the NHS, appointing us for their branding.
Challenger Brand Communications
We've really enjoyed working with challenger brand Unleash & Engage who deliver large scale transformation and sustainable operational excellence for global manufacturing giants.
As the company has grown significantly over the years, we recognised the need for a management portal where U&E could interact with their growing number of consultants, arrange meetings and share information. You can read more about the process here
Using video to maximise leads
Unique service management software, Service Geeni needed a diverse marketing strategy to gain new customers in the industry. To do this, we launched their video marketing campaign involving sending a video demonstration through direct mail. We have continued to receive great results from these campaigns, generating their targeted leads.
Welcome Mel
In 2019, we also welcomed to the team our new Content Manager Melanie Fisher in September. Melanie who comes from a creative background and studied at Leeds Arts University has made a great addition to the team, writing content across multiple accounts.
Watch this space
After a successful year in 2019, we've enjoyed a well-deserved break and now look forward to what 2020 will bring for Definition Consulting. Watch this space…
If you want to ensure you achieve your Marketing & Business Development goals for 2020, get in touch to see how Definition can support you.