Three common mistakes professional services firms make with their conten …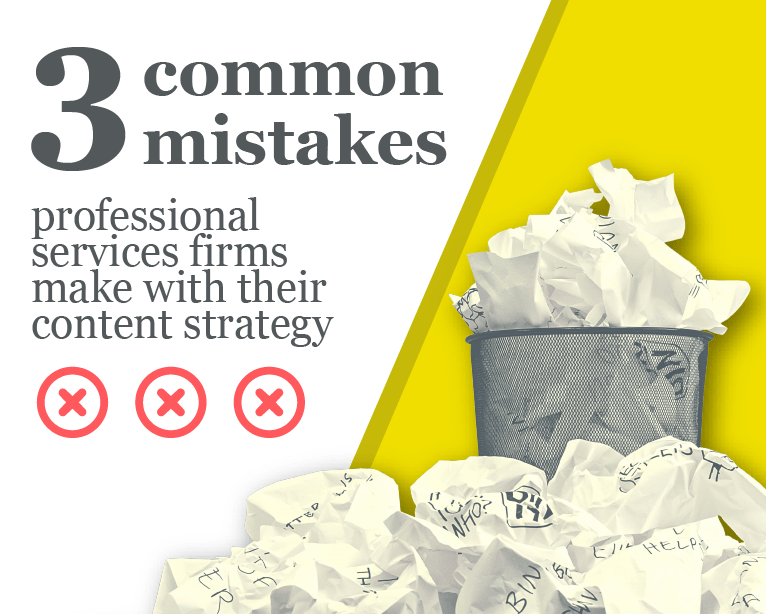 Whether providing a generalist practice, or specialising in niche areas, being able to demonstrate your knowledge to effectively attract new clients is a skill that eludes many. However, there are common content strategy mistakes that many professional services firms make.
As one of the main sectors we work with, we've gained a good understanding of professional services clients over the years.
The top 3 common mistakes made when it comes to content:
Not having a strategy
Adopting an 'ad-hoc' approach to updating your website may have sufficed a few years ago, but these days, if you're in the business of providing advice, you really need to be outwardly demonstrating this. You need to plan the type of content you will produce, how frequently you want it to be created, where it will go and ultimately, how to deliver this to your key audiences.
The starting point is to consider each of your potential customers, thinking about the type of content that will appeal to them and provide value.
Be creative in how you portray your message, do something different! This is likely to help you stand out from the sea of others in your industry. Blogs don't have to take the same format – consider how-to guides, case studies or cover recent legal/regulatory developments and stories in the news, think; what does your audience want to read? Not what you want to read.
Content doesn't only come in written form – Consider using video, imagery and animation. Different people consume information in different ways.
Ditch the jargon
One of the main mistakes professionals make is assuming their customers understand the terminology they use. Once you have got to know a client, you can gauge their level of understanding and adapt your language accordingly. But at the point of trying to attract new clients, you don't want to put them off at the first hurdle by having content littered with jargon.
Be mindful of your writing style, keep your audience in mind. You are trying to attract, engage and connect with your key audiences.
Not doing enough
If you think that creating a one-off video to introduce your firm or writing a blog every six months is enough, you need to think again.
To be considered an authority in your field of expertise, you really need to be showing the world that this is the case.
The frequency of content you publish will vary depending on the size of your firm and the number of areas you specialise in. It is safe to say that one blog or article a month should be considered the absolute minimum.
This involves having a regular schedule for producing content, or if you/your team don't have time or the skills to write content, you should consider outsourcing this to a professional.
Definition Consulting specialises in working with professional services firms. We work with our clients to establish content strategies, delivering fresh new content on an ongoing basis.
Chat to a member of our team today and find out how we can help to get your content working better for you.